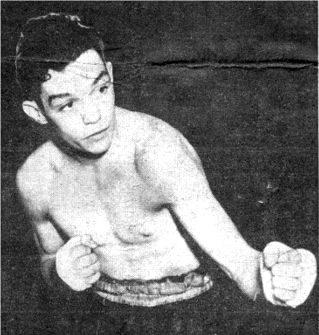 The thud of padded leather against sweaty muscles sounded an unsteady tattoo in the small gymnasium located in an "old fire house" at Nanticoke. Intermingled were shouts of a man's voice barking encouragement to the sparring figures dancing on the canvas.
"Come on, come on, you guys," the man called to the two protégés, Mal and Freddie Lewis. "You're supposed to be developing a little form, not just swiping at each other as though it was a back alley brawl."
As the trainer continued to berate the slugging pair, a scrawny youth, barely weighing 90 pounds, approached him timidly.
"Can you tell me whether Art Thomas is around?" the youngster asked.
Scarcely taking his eyes away from the plunging, reeling figures the man barked back to, "Yeah, that's me. Now don't be wasting my time. What's on your mind?"
"Well, I was just wondering, Mr. Thomas," the kid replied, "if you'd be kind enough to teach me a few things about boxing. I'd like the box on the Olympic team someday and sure would appreciate anything you could do for me."
There must have been something about the kid that Thomas figured was good material for a boxer, but it certainly wasn't evident in the youngsters appearance. On that eventful day he was just about 16 and half years old and weighed 1 pound under 90.
But, after six months of careful training under the watchful eye of Art Thomas, this youngster, Billy Speary, presented a slightly different appearance.
Wins First Bout
With painstaking care and patience, that old wise owl of the square circle, Art Thomas, had developed him slowly but surely. Still a frail looking kid, without ring experience, he was put on for his first fight in the Tamaqua Armory against Adam Push, Tuscarora, more as an exhibition than as a regularly scheduled fight. Knocked down in the opening round, he started to laugh as he sat on the floor.
Then he got up and went to work. Training had packed power and developed perfect timing in those frail looking arms and he won his opening fight via the knockout route. Since then, as an amateur, Billy has gone to post 198 times. Out of this number he's left the ring loser on only 15 occasions and nearly 90 of those fights he won by knockouts.
In 1937, Art Thomas entered his boy in the Diamond Belt district eliminations in Tamaqua. Here he defeated all comers and handily won himself a place on the Tamaqua K. of C. Diamond Belt team. This gave him a right to campaign in the Philadelphia eliminations for the Diamond Belt flyweight title.
It was the acid tests for the up and coming hopeful. The flyweight field was difficult, due to the experienced Quaker City boys. The kid had an uphill struggle but succeeded in winning the Diamond Belt flyweight championship by defeating Johnny Forte, the pride of the Philadelphia pugilistic followers. Thus, the right to enter the New York Golden gloves tournament was his.
He stated recently, that when he entered the Garden in ' 37 it looked as if "I was about to meet my Waterloo." However, the kid won his fight handily and then drew a bye in the next bout.
In the third and final bout he kayoed Allie Stoltz, of Newark, who just recently was knocked out by Petey Scalzo, leading contender for Joey Archibald's pro featherweight crown. Now, the toughest fight he was to experience during his entire amateur career was at hand, but he came through and punched out a very clear cut decision. His next stop was Chicago with the New York Golden Gloves team meeting the Western Golden Glove team.
Here he won all his bouts because competition wasn't as keen as it had been in Philadelphia or New York. The National Championships in Boston, the most coveted goal of any amateur, was his final and most important tournament of the year.
To be recognized as the national champion means the right to campaign for the International crown with trips around the world as prizes, the opportunity to box before the Prince of Wales, and a chance to try for a position on the Olympic boxing team.
Speary waded through competition in Boston like a true champion, and after grueling battle and victory over Gilbert Murakani, titleholder of Honolulu, he was declared National amateur flyweight champion for 1937. Most of his dream and that of his manager had come true. The two took the long-awaited Trans Atlantic voyage to London, and here Speary boxed before royalty.
Displaying the true makeup of the champion, Speary again demonstrated his fighting prowess by winning the national amateur Bantam title in 1938 and 1939.
In advancing to the heavier weight, Speary met several tough customers, namely, Angelo Ambrosano and Frankie Donato, both of Philadelphia. Donato in their first encounter, won by a technical knockout in the second round with Speary's eye was cut. Later, in the Philadelphia Diamond Belt eliminations, Speary had his revenge when he knocked out Donato in the second round.
His popularity was shown in Allentown last August when he met Billy Davis, flashy Minersville youth, in the fair grounds. The largest crowd ever to witness in amateur boxing card in the city was on hand to see him win an easy decision. He fought the last bout of his amateur career Feb. 1st in the Tamaqua Liberty Hall, where he had been given his start four years hence. His opponent was Harvey LaCalle, 126 pound champion of Canada. Displaying the form that made him three-time national champion, Speary handily out pointed LaCalle before an over-capacity house. There was only one thing left for him to do and that was to turn pro because the European war had started, thus postponing the Olympics.
At Scranton on Feb. 7, 1940 he made his pro debut by scoring a K.O. over his man in the fourth round of the scheduled 10 round affair. Since then he is engaged in 16 pro bouts and has yet to feel the sting of defeat.
* While this article was written during the summer of 1940 when Billy was boxing professionally as a Featherweight, it appears that the pictured used dates to his Flyweight days of 1937.