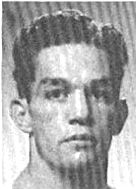 What can one write about a pugilist from the Coal Regions, who demonstrated he could well handle the opposition in both the amateur and professional ring?
It doesn't take much imagination to realize that the name Billy Speary, born in Nanticoke, Pa, has made ring history as a bantamweight and featherweight as an amateur and as a pro.
As "Simon Pure" this gloveman from the Anthracite Region was supposed to be "AN EASY MARK." But before the going was over in the punch for honor competition, he had won a grand total of 267 contests. To climax it all Speary wound up with a total of 13 amateur ring championships in both the 118 and 106 (should read 112) pound divisions.
Having no more fields to conquer, Speary became a leather pusher for pay. As a result of his professional battle, he soon discovered he had participated in a total of 68 money earning ventures.
He fought the best in the world, including sizzlers with bantamweight and featherweight champion Harry Jeffra, of Baltimore; Joey Archibald, of New York, Willie Pep and Jackie Callura, the later trio having held the 126 pound crown.
Speary beat Jeffra when he held the bantamweight and the featherweight crowns, both being over the legal title poundage. He also beat and lost to Archibald. Archibald, Pep and Callura eked out unpopular verdicts over the "Upstart from Northeast Pennsylvania." Efforts to gain rematches with Messrs. Archibald, Pep and Callura proved futile. Speary's ability to give and take proved he was no "easy mark" for the cream of the crop. One meeting with him was just too much - an experience they never forgot.
The name of Billy Speary well merits being enrolled with all the champions and near champions that have already gotten into the Pennsylvania State Boxing Hall of Fame.
Upon his retirement from active competition, the one time bantam and feather ring great became a fistic referee, as a licensee by the Keystone State Athletic Commission. He performed these chores in the Wilkes-Barre-Scranton area.
Speary passed away while still a very young man but his ring feats will always be remembered by the residents of his home sector as one of the nations foremost bantam and featherweight challengers.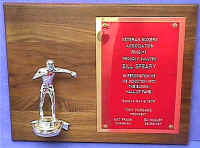 Plaque commemorating induction